+++ While the beautification of the church is going on, adoration and weekday Mass will be held in a chapel next to the parish office. Please enter the building using the door between the church and the parish hall (the breezeway) REMINDER – When John Robert and I are here, this area is our home, so please – out of courtesy – knock before entering and wait for one of us to say OK before you enter. The church itself will be a construction site and for several reasons (including safety) will be off-limits to everyone. I respectfully ask that you honor this request. As I mentioned at Mass on Sunday, the renovations may take several weeks. However, our church will soon be even more beautiful. Thanks be to God. God Bless you all. +++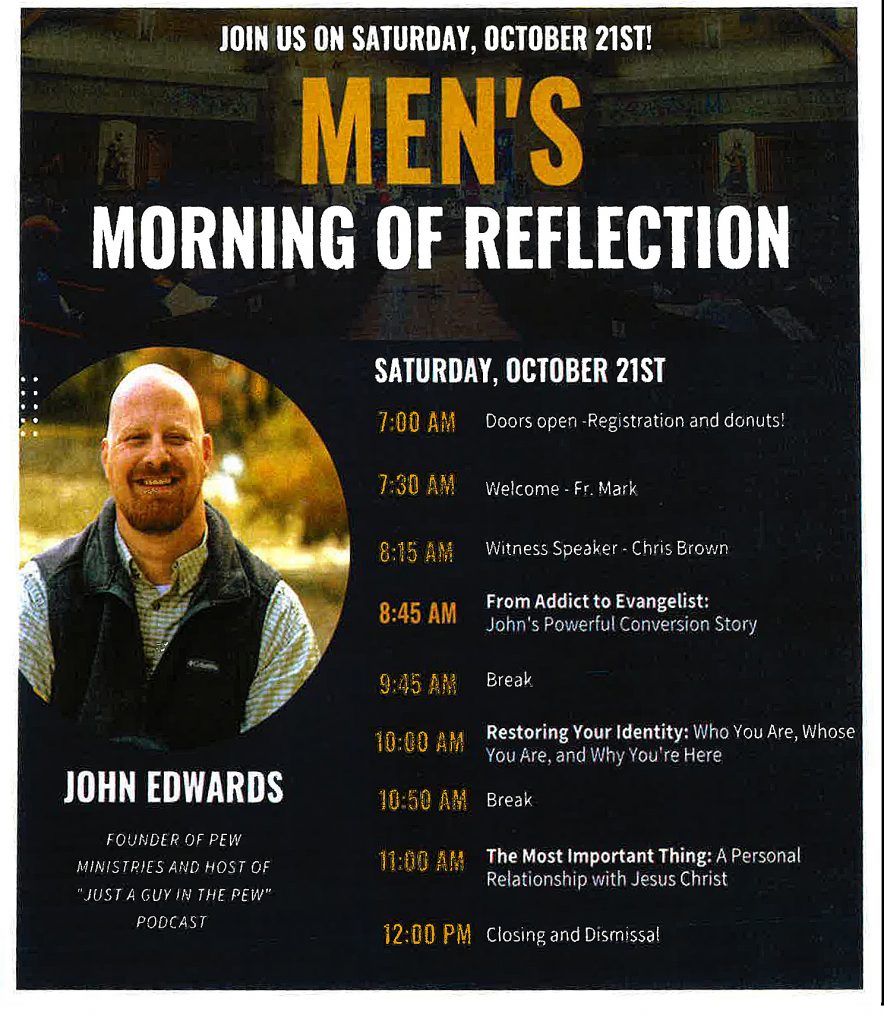 Twenty-Sixth Sunday in Ordinary Time
October 1, 2023
If any parish organizations have news to be included in the bulletin, please contact Cathy Tindall (caTTyT46@gmail.com, or call/text 601-530-6151). Parish information can be found on our website. WWW.stfxstl.org. Our website now has language options. If you would like your native language included, please see Fr. Marascalco or Cathy Tindall.
A TEMPORARY SCHEDULE CHANGE BEGINS THIS WEEK – Father Marascalco will be attending a convocation this week so there will be no Adult Ed this evening and no Masses during the week. The following week – October 8 until November 3 – there will be no Adult Ed or weekday Masses while Father is out of the country.
CCD HAS STARTED – Classes start at 9:15 a.m. It's not too late to register and start learning about our faith in new and fun ways. Registration is still open for students in grades K through 12.
RED MASS HONORING LEGAL COMMUNITY – The annual Diocesan Red Mass invoking the blessings of the Holy Spirit over the legal community will be held at Nativity BVM Cathedral on Sunday, October 15 at 11:00 a.m. Immediately following there will be a reception in the Sacred Heart Center. This year, Judge Leslie Southwick of the Fifth Circuit Court of Appeals will be speaking. All judges, lawyers, public officials, and people of good faith are invited to attend.
CONGRATULATIONS to Ron Scott of St. Lucy and Don and Carolyn Booth of St. Francis Xavier. They are our Lumen Christi Award recipients this year.
PRAYERS FOR SAFE TRAVELS – Fr. Marascalco will be on vacation the weekends, of *corrected dates* October 15, 22, and 29th. Fr. Dennis Carver will be celebrating Masses for us on those weekends. There will be no Mass at Holy Trinity while Father is away. Deacon Steve will be the administrator while Father is gone.
THANK YOU FOR YOUR PATIENCE – as we continue to celebrate the Mass in the Parish Hall.
CHURCH CLEANING MINISTRY – Thank you to all who have been participating. You are all greatly appreciated. Cleaning for today – *, for Oct 8 – * for October 15 – Barbara, for October 22 – Michelle, Marcelina, Mayra.
ADULT ED – Sunday evenings at 6:00 unless otherwise announced.
MONDAYS – Adoration will be from 8:30 am to 9:30 am followed by Mass at 9:30 am unless otherwise announced.
TUESDAYS – Mass at 8:30 a.m. followed by Bible Study unless otherwise announced.
TUESDAY BIBLE STUDY – We continue with our study on the Biblical role of Mary in our faith.
MAKE A JOYFUL NOISE – If you would like to be a part of helping us make a joyful noise unto the Lord, please see Fr. Marascalco or Ken and Alecia Rolling (they are the ones that currently lead the singing).
PLEASE PRAY for our sick and homebound friends, family, and parishioners who are unable to celebrate the liturgy with us
Please see the calendar in the hallway, and on the bulletin board in the back of the church for future events. Daily readings for this week can be found on the home page.
Upcoming Readers – subject to change as needed
October 1 – Elizabeth
October 8 – Teresa
October 15 – Michele
October 22 – Robert
October 29 – Debbie
Please see the Pray For Priests page to keep our Diocesan Priests, Deacons, and Seminarians in your prayers. Pray For Priests (stfxstl.org)